Paper Towel Tissue manufactured and designed to meet the needs of the food service industry throughout North America.
---
MPI Papermills is a leading manufacturer of paper towel products for North America's hospitality industries, meeting customer's needs across a variety of applications, while maintaining its hygienic qualities. Many studies show that hand towels are more effective at drying hands and reducing the spread of germs than hand dryers are.
Standard or custom specifications.
We value our customers and strive to meet their specifications. We offer multiple case packs to meet the varying degree of standards across various applications.
Made for the restaurant, hotel, and food service Industries.
Whatever your industry, we have the paper towel products you need, when you need them.
Perfect For:
Hotel & Restaurant Bathrooms & Kitchens
Office Environments
Food Service
Hospitals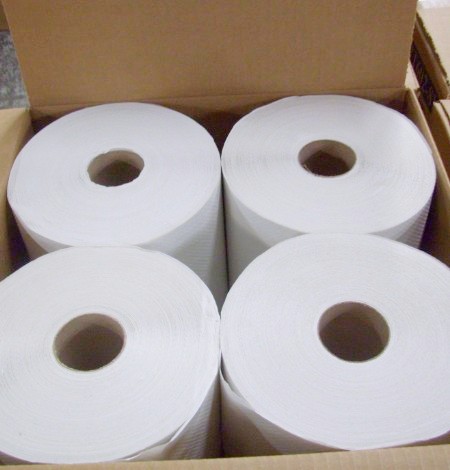 ---
Paper Towel Product Specifications
Our paper towel products come in the following specifications. Not seeing what you're looking for? Contact us.
| CODE  PRODUCTION | TARGET | SPECIFICATION | MIN. |  TARGET | MAX. |
| --- | --- | --- | --- | --- | --- |
| GRADE  # | 12.0 | BASIS WEIGHT (24″X36″-500) |  11.5 | 12.0 | 12.5 |
| OBJECTIVE | 12.3 | BURST (8 SHEET) | 10 | 12 | |
| COLOUR | WHITE | | | | |
| FINISHED | CREPE | | | | |
| SPEED MACHINE | 1180 FT/MIN | | | | |
| STRETCH % | 8.0 % | | | | |
| SLICE | Ibs.inch | TENSILE SEC ( 1 ply 1" – 8" ) MD | 1.5 | 1.7 | 2.0 |
| WATER | Ibs.inch | TENSILE SEC (1 ply 1" – 8" )  CD | 0.5 | 0.7 | 0.8 |
| HUMIDITY |     5.0 %   | STRETCH % 1 ply 1" –8" MD | 4.0% | 5.5% | 7.5% |
| P.H. | 6.5  | STRETCH % CD | | | |
| ABSORPTION TIME | Sec. | VARIABLE | 8 | | |
| . | | THICKNESS  (4 SHEET) | | | |
| CONSISTENCY | 3.8 | THICKNESS (16 SHEET ) | .040 | .045 | 0.55 |
| | | POROSITY _____ SHEET CC   | | | |
| | | HUMIDITY | | | |
| | | BRIGHTNESS ISO | 78 | 80 | 82 |
| | | FINISHED | | | |
| | | BASIS WEIGHT AFTER REEL | | 12.0 | |