Tissue paper manufactured for the hygiene and hospitality industries throughout North America.
---
We produce tissue paper for a wide variety of uses. From bathroom and seat covers to fruit and vegetable liner pads and everything in between, we've got you wrapped up!
1, 2 or 3 Ply, white, pink or kraft... whatever the grade, MF or napkin tissue, not an issue!
Customized to meet your requirements, while maintaining our standards of quality and consistency.
Used in the hotel, restaurant & hygiene industries.
MPI Papermills tissue papers are used across a variety of North American industries, for a variety of purposes. Whatever tissue paper product you need, we can provide it.
Perfect For:
Bathroom tissue
Pink separating tissue
Toilet seat covers
Hygiene papers (carrier sheet)
Bathroom tissue overwrap
Gift wrap tissue
Tissue for emergency blankets
Fruit and vegetable liner pads
Disposable medical bibs
Food wrap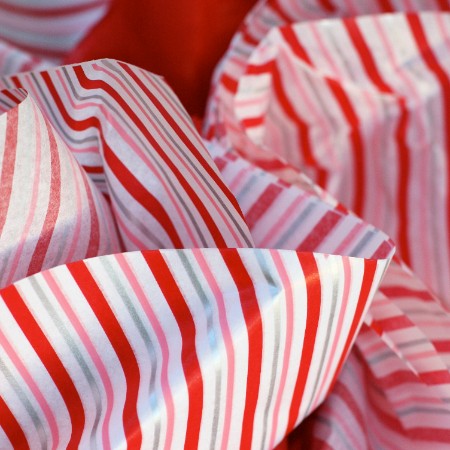 ---
Tissue Paper Specifications
Our tissue paper products come in the following specifications. Not seeing what you're looking for? Contact us.
9.0 lbs - Plain
CODE PRODUCTION

TARGET

SPECIFICATION

MIN.

TARGET

MAX.

GRADE #

93

BASIS WEIGHT (24″X36″-500)

9.0

9.4
9.7

TARGET

9.0

BURST ( 4 Sheets)

10

14

COLOUR

WHITE

TENSILE SEC ( 2½″X 16 Sheets)

FINISHED

M.F.

TENSILE SEC ( 2½″X 16 Sheets)

MACHINE SPEED

1300

TENSILE MOISTURE ( 2½²X 16 Sheets)

STRETCH %

TENSILE MOISTURE ( 2½²X 16 Sheets)

SLICE

.75

TENSILE SEC ( 1ply 1''X 8'') SM

2.8

3.3

WATER

1285

TENSILE SEC ( 1ply 1''X 8'') ST

2.0

2.2

TENSILE MOISTURE (1 ply 1" – 8") SM

VALVE-STEAM

22.0

TENSILE MOISTURE ( 1ply 1''X 8'')

MOISTURE

5.0 - 6.0

STRETCH % SM

CREPING BLADE

ACIER

STRETCH % ST

FREENESS

120-150

CONSISTENCY

3.0

THICKNESS (4 Sheets)

..0040

0045

.0050
SUCTION PRESS

In-Front   14

THICKNESS (Sheets)

SUCTION PRESS

In-Behind 14

POROSITY ( _____ Sheets)____CC   

HOOD PRESSURE

3 lbs less yankee 
temperature

AGGRESSIVE RELEASE

yes

BRIGHTNESS 16 SHEETS UV EXC
9.4 lbs. - Recycled
CODE PRODUCTION

TARGET

SPECIFICATION

MIN.

TARGET

MAX.

GRADE #

93

BASIS WEIGHT (24″X36″-500)

9.0

9..4
9.7

TARGET

9.0

BURST ( 4 Sheets)

10

14

COLOUR

WHITE

TENSILE SEC ( 2½″X 16 Sheets)

FINISHED

M.F.

TENSILE SEC ( 2½″X 16 Sheets)

MACHINE SPEED

1300

TENSILE MOISTURE ( 2½²X 16 Sheets)

STRETCH %

TENSILE MOISTURE ( 2½²X 16 Sheets)

SLICE

.75

TENSILE SEC ( 1ply 1''X 8'' )  SM

2.8

3.3

WATER

1285

TENSILE SEC ( 1ply 1''X 8'' )  SM

2.0

2.2

TENSILE MOISTURE ( 1ply 1''X 8'') SM

VALVE STEAM

22.0

TENSILE MOISTURE (( 1ply 1''X 8'' )

MOISTURE

5.0 - 6.0

STRETCH  %                     SM

CREPING BLADE

ACIER

STRETCH  %                      ST

FREENESS

120-150

CONSISTENCY

3.0

THICKNESS          (     4     Sheets)

.0040

.0045

0050
SUCTION PRESS

In-Front    14

THICKNESS          (            Sheets)

SUCTION PRESS

In-Behind 14

POROSITY ( _____Sheets)____CC   

HOOD PRESSURE
3 lbs less yankee
temperature

MOISTURE

AGGRESSIVE RELEASE

yes

BRIGHTNESS 16 SHEETS UV EXC

81
12 lbs. - 12.5 lbs. - Pink
| CODE PRODUCTION | TARGET | SPECIFICATION | MIN. | TARGET | MAX. |
| --- | --- | --- | --- | --- | --- |
| GRADE # | | BASIS WEIGHT (24²X36²-500) | 12.0 | 12.25 | 12.50 |
| OBJECTIVE | | BURST                (  4 SHEET) | 10 | 12 | |
| COLOUR | | | | | |
| FINISHED | | | | | |
| SPEED MACHINE | | | | | |
| STRETCH % | | | | | |
| SLICE | Ibs.inch | TENSILE SEC ( 1 ply 1" – 8" ) MD | 1.5 | 1.7 | 2.0 |
| WATER | Ibs.inch | TENSILE SEC (1 ply 1" – 8" )  CD | 1.0 | 1.1 | 1.2 |
| HUMIDITY | | STRETCH % 1 ply 1" –8" MD | 5.0% | 5.5% | 6.0% |
| P.H. | | STRETCH  %               CD | | | |
| CREPING BLADE | | | | | |
| | | THICKNESS  (    4    SHEET) | | | |
| CONSISTENCY | | THICKNESS (   16   SHEET ) | .040 | .045 | 0.55 |
| | | POROSITY _____SHEET CC  | | | |
| | | HUMIDITY | | | |
| | | BRIGHTNESS ISO | | | |
| | | FINISHED | | | |
| | | BASIS WEIGHT AFTER REEL | | 12.0 | |